Don't get spooked by a broken HVAC this Halloween season! As cool weather begins to creep in, homeowners are shuffling to perform preventative maintenance on their homes for the upcoming winter weather. The last thing you want is to discover that your heater is broken on that first bone-chilling cold front of the year!
Ensuring your HVAC is in proper condition is a must-do on your to-do list. Keep your home efficient so you can stay comfortable indoors this time of year without having to bundle up in sweaters and blankets! Provided is the ultimate HVAC maintenance checklist to get ready for the coldest season.
Clean Your HVAC Unit
Before it gets too cold out, get outside and clean your HVAC unit. Leaves, dirt, pollen, and other particles can block the airflow and damage its functionality. Grab a pair of thick gloves and get to work on the following steps:
Turn your breaker OFF for safety.
Check your manufacturer's instructions on how to take the top off your unit.
Clean out leaves or other debris that has gathered inside.
Are your fins damaged? An HVAC professional can help with the repair.
Clean your coils with a spray-on Coil Cleaner. Let the substance sit for 10-15 minutes, and then wash off with a garden hose.
Screw the top of your unit back and flip the breaker back on!
We recommend cleaning the debris around your unit weekly for proper airflow.
Clean and Replace Your Air Filters Regularly
Depending on your filters manufacturer, make, your lifestyle habits, and where you live will depend on how often you should replace your filters. Home Depot has an excellent series on choosing the best type of air filter for your family, along with a guide on how to replace them.
On average, we recommend renewing your filter every three months and clean them monthly. The goal is to have an adequate amount of airflow entering your home without disruption. Clean filters promote a healthy IAQ (indoor air quality) to keep your family safe from dust and other allergens that might accumulate over time.
Check Your Air Ducts
You may not look in your air ducts often, but this is something you should look into at least once a season. According to the EPA, ducts infested with mold, dust, debris, or vermin can lead to health issues!
If you see particles in the area, you can vacuum them out. However, at times there are spaces that are harder to reach. We recommend hiring a professional to clean your ducts in these cases.
Test Out Your Thermostat
Test out your thermostat before the first big cold front of the year to ensure everything is performing in top shape! The last thing you want is to try to crank up the temperature on a frigid day for it not to work!
Set your device to the "Heat" setting and make sure warm air blows out of your heater. Don't be distraught if you smell a funny odor. This burnt scent is due to the furnace switching on for the first time in months! If your thermostat is underperforming, consider switching to an ENERGY STAR certified temperature controller to keep your home efficient at all times.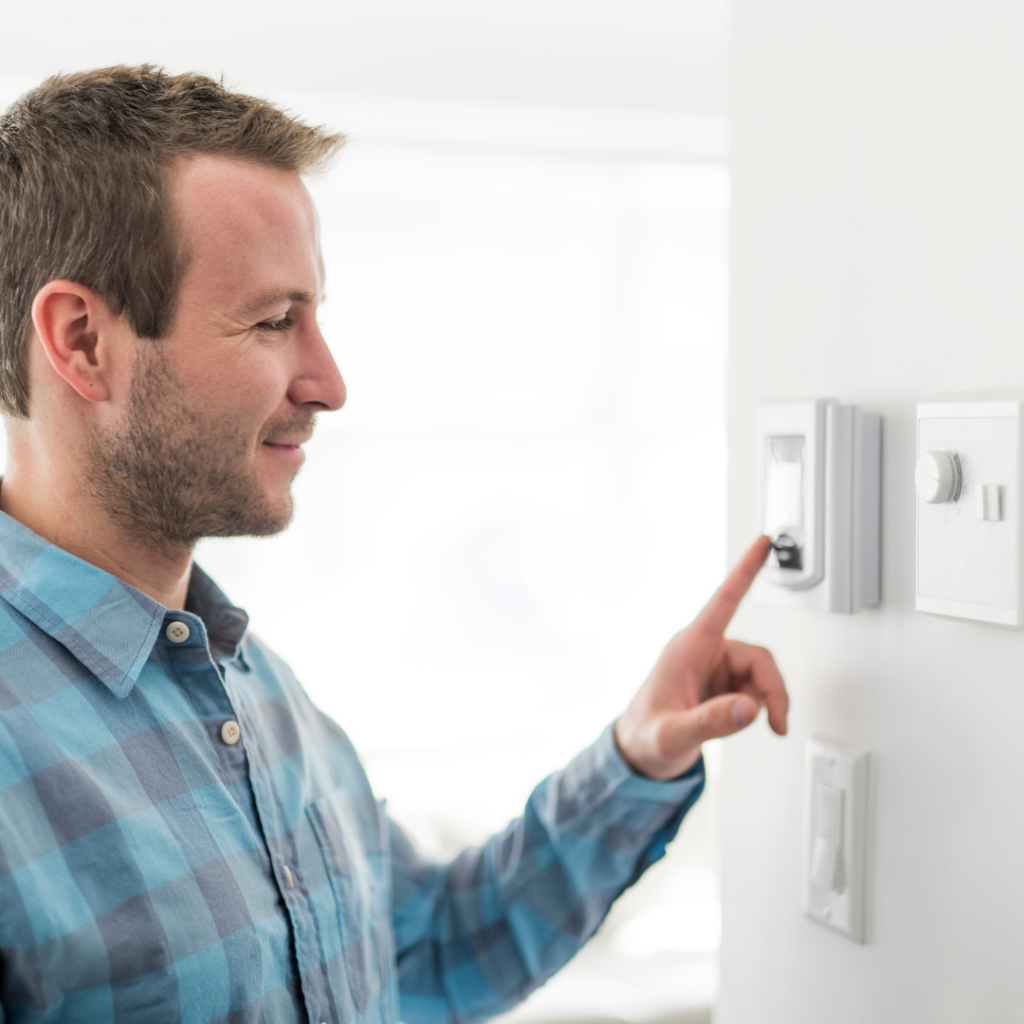 Properly Insulate and Air Seal Your House
One of the most important investments you should make to your home is to get it properly insulated and air sealed. These factors act as the backbone to making a home comfortable year-round without using an excessive amount of energy. Ideally, you will want to insulate your home with a blown-in fibrous type of material such as fiberglass or cellulose rather than a laid-down "batts" arrangement. This method acts as a "thermal envelope" to keep your home cool in the summer and warm in the winter.
In addition to insulation, you will want to have your residence air sealed. The process of sealing your home's exterior involves your contractor checking for any cracks in walls, doors, or windows that might be letting outdoor air inside. As a result, insulation and air sealing work hand-in-hand to reduce the stress on your HVAC system drastically. 
Energy.gov states that "Sealing air leaks around your home and adding insulation are two of the most cost-effective ways to improve energy efficiency and comfort in your home." If you're interested in learning more about this dynamic duo for your house, contact the B&E team for more information.
Consider a Home-Energy Audit
Did you know that your HVAC makes up about 50% of your utility bill each month on average? Typically, this is from the massive amounts of pressure put on these devices when homeowners crank up their thermostats. One way to prevent this is to optimize your residence through a home energy audit. Here, a certified professional will inspect your house holistically to understand better what needs to be improved.
First, prepare to have your contractor take a look at your attic, basement, HVAC, water heater, and recent utility bills to collect the necessary data. Second, your contractor will then discuss with you a comprehensive plan to enhance your home to provide better comfort, health, safety, efficiency, and lower utility bills. Contact the B&E team to schedule your home energy audit today. 
Checking home maintenance items off your to-do list is critical for each season. Ensure your HVAC and all of its heating parts are cleaned before cranking up the heat during the chilly season. Consider having a contractor conduct a home energy audit or seal and insulate your home to take pressure off this system for your home.
When you take care of your whole house, these different components begin to work together. In addition, this results in better comfort and lower utility bills.
If you have any questions about having a healthy HVAC, are looking to upgrade your heating system, or are curious in learning more about increasing home comfort, reach out to us at B&E Energy Solutions at 888-740-7920. What are you looking forward to most this winter? Let us know on Instagram!